real-time Inventory tracking
Builder portal
No more compiling and sending status reports to builders - LotWorks allows external builder salespeople to log in, view current inventory statuses and place a lot on hold or request a purchase. Lot statuses are updated automatically, reducing repetitive input for sales administrators.
You can restrict builder users by community, phase or even product type within a phase.
Generate sales agreements on-the-fly
Generating purchase agreements is a snap, using information already stored in LotWorks. Confirm or edit your default terms of sale and click to generate a PDF that is automatically emailed to the purchaser.
You can manually include PDFs as additional schedules, or have LotWorks generate a list of expected payments - even auto-attach a map of the phase with the lots highlighted.
Track deposits received and note when you have a firm sale. Send reminders for upcoming payments.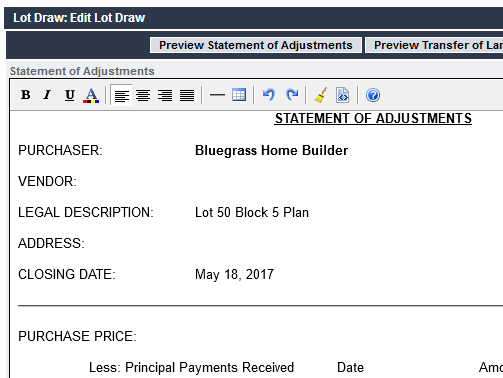 conveyancing
Reduce your legal fees by generating legal conveyancing documents when a lot is paid out, including Statements of Adjustments or Transfers of Land. You can use default templates or we can work with you to customize ones that match your own.